Research meeting: Michaela Stejskalová and Hasan Forsell
2. listopadu 2016 12:00
Dear colleagues, dear students,

after a short break in our department's research matinee, let me invite you to next
week's round of presentations.

Starting at noon (12 am) Michaela Stejskalová will present her dissertation
"Involuntary sterilisations of Czech Romani women in sociological perspective".
Besides the unusual time, the venue also is extraordinary - due to scheduling conflicts
in U34, we will meet in the Aula. To get an idea of what you might be looking forward to
in Michaela's talk, please have a look at the abstract and picture below.

My research examines in sociological perspective one of the most serious human rights
abuses of women – the practice of coercive sterilisation as it was conducted on the
Romani women in the Czech Republic. For the last ten years, this practice had been widely
criticised by various international bodies as a violation of basic human rights, such as
the right to respect for private and family life, the right to make decision on one´s
own body and the right to freely decide on the number and spacing of the children. The
research was conducted as a part of my fellowship for ERRC and it has focused on the
matter of involuntary sterilisations mostly from the perspective of harmed women - how,
when and why did the sterilisations happen and what do they mean for their present days.
In addition to this, the societal and political context had been examined through the
analysis of documents available in the Museum of Romani culture regarding the efforts to
solve the 'Gypsy population issue'. The whole project had the nature of action
participatory research - the stories of the women involved had been used as a groundwork
for a social theatre some of them have performed in June in Ostrava as a way of
self-advocacy for compensations of involuntary sterilised Romani women.

21 Romani women and 1 non-Romani woman from Ostrava, Most, Louny, Praha and Vsetín had
been interviewed in depth and 2 focus groups were established in order to provide more
equal and open environment for them to share their trauma and various experiences with
doctors and social workers.

This research has been subsequently grounded in a sociological theory through concepts of
social exclusion, gender inequality and ethnicity, as well as power over bodies and
inequalities in health to understand, why was it so easy to sterilise the Romani women at
the end of the communist era and in the beginning of the 90s and why is it now so
difficult for them to receive justice.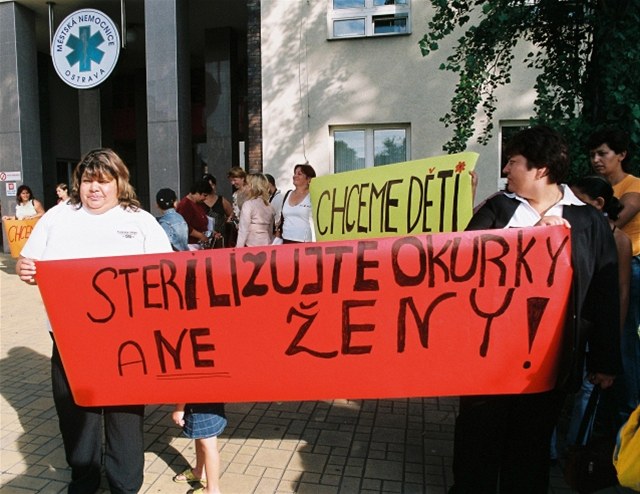 ---
In the second half of Wednesday's afternoon - starting at 3.15pm - Hakan Forsell from
Stockholm University will deliver a lecture on the "Political Walks in European Urban
History: Exploring the Meaning of Heritage, Development and Social Change of Today" -
this time at the usual venue in U34.